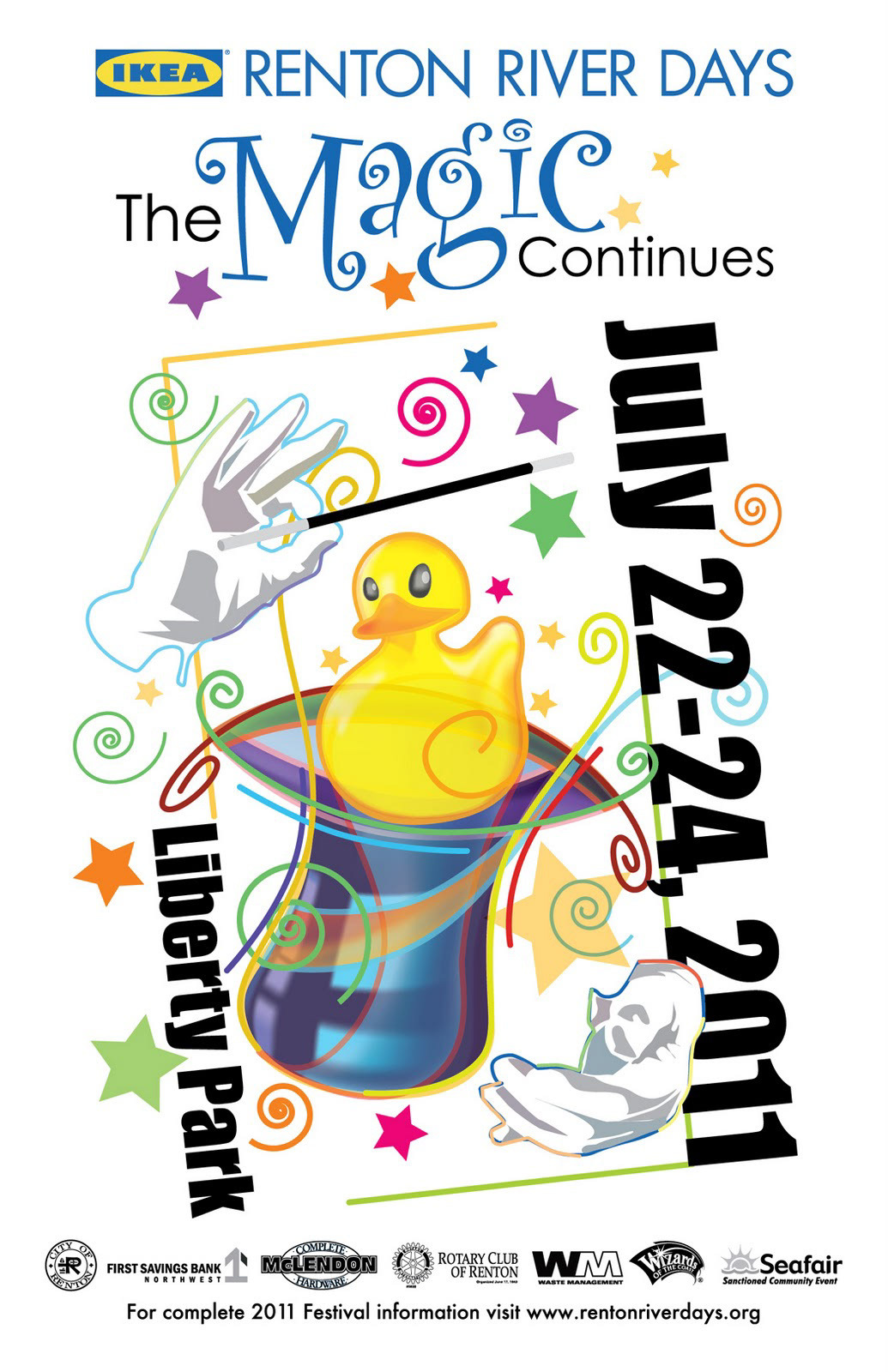 Renton River Days is an annual multi-day family festival and celebration of community pride, joining residents, businesses, organizations, and Puget Sound tourists together for a wonderful variety of events, special features for kids, arts and crafts, recreation, food, and stage entertainment at Liberty Park and Cedar River Park.
––––––––––––––––––––––––––––––
The 2010 25th Anniversary poster graphic theme was 25 Years of Magic in The Park. The Renton River Days Board wanted to continue with a "Magic" theme for 2011. The theme lines for consideration were: "Experience the Magic", "A Magical Experience", "Summertime Magic", and "The Magic Continues" The board wanted me to begin work on visual concepts based on these themes, while considering the community festival history of Renton River Days.
Based on my discussions with the RRD's Board, I started very rough ideas to begin a talk and walk through session. Below are the three concepts along with descriptions.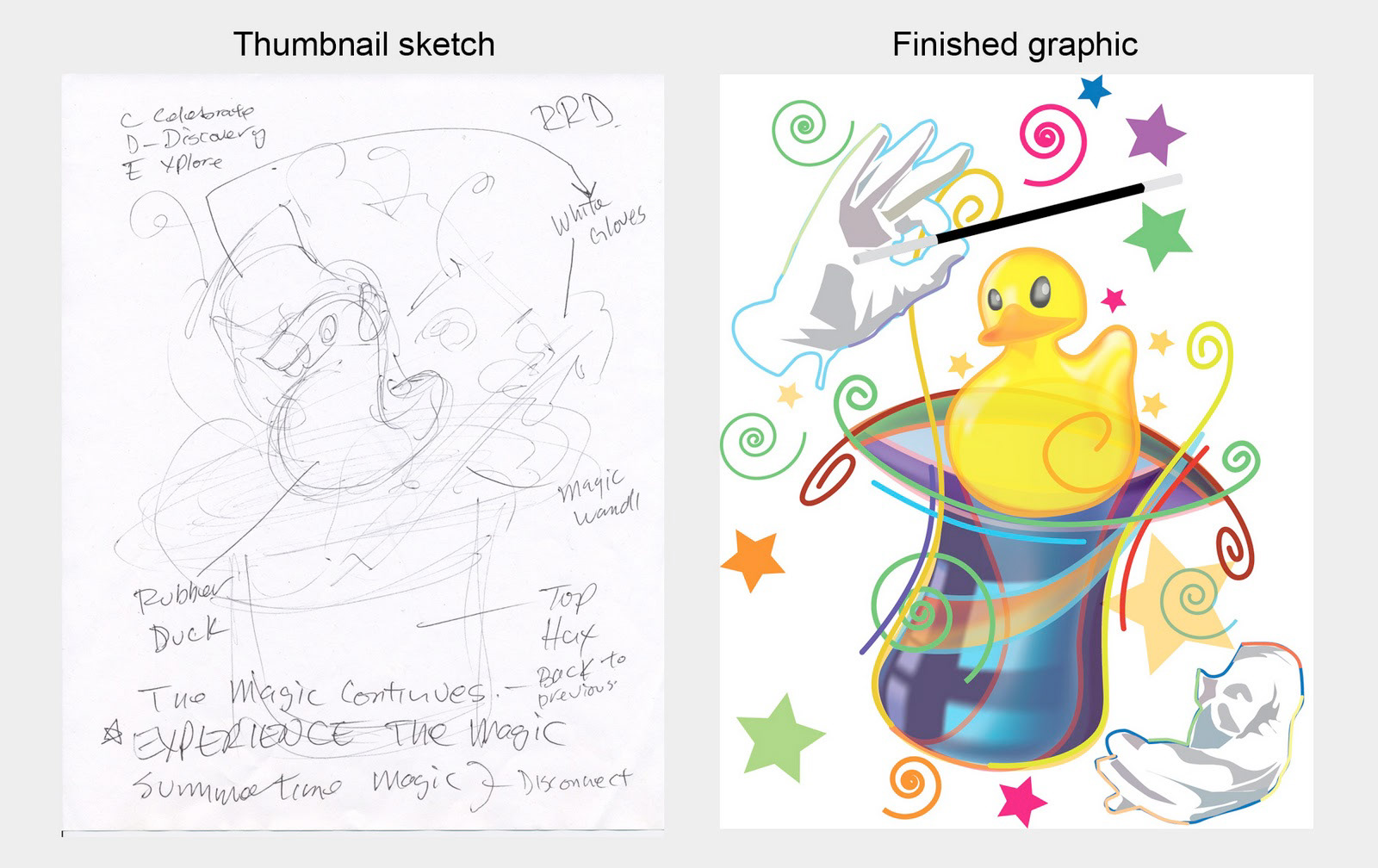 Sketch One: Pick A Card, Any Card
Two hands holding cards face up. On each card is a feature of RRD. Food, Family Fun, Duck Race, etc.
Two white gloved hands with flying cards between. Flying off each card is a feature of RRD. Food, Family Fun, Duck Race, etc.
Sketch Three: The Magic Hat
Pulling a duck out of the magic hat trick. Two white gloved hands, a magic wand and a duck.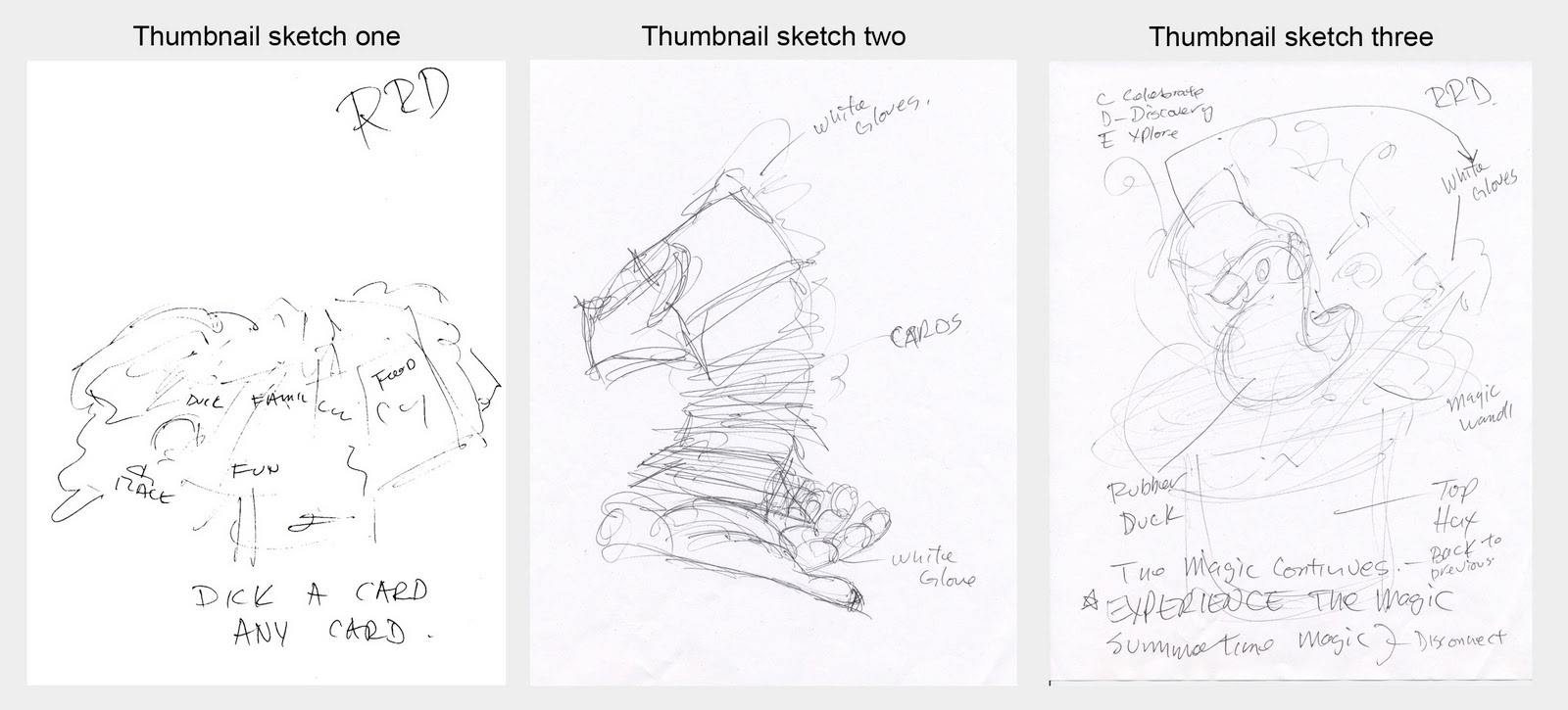 The River Days Board selected the theme "The Magic Continues" and asked me to develop thumbnail sketch three. That was my favorite sketch so I was excited to move forward with the selected theme.
I usually do a series of exploratory sketches that aren't shown to the client. These sketches help me determine the look and feel of the assets. Versions 1a and 1b are the first round. There are times in the creative process where mental frustration begins and self doubt starts to creep in. Yes, this was that time for me.
I wasn't happy with the initial duck and hat sketches and I couldn't think past them. I don't have a singular solution for breaking through creative blocks, however, a few things have worked for me: getting feedback from another artist, leaving the project for a while or working on something else. I might even start to doodle for fun which then sparks an idea or direction for the project.
It was a random doodle that helped me realized I was trying to be too literal with the duck and hat. I decided to go more abstract and just have fun with the concept. This approach is represented in sketches 2a and 2b. The hat was starting to look fun and I liked the connections of the line work, so I chose to work with sketch 2b and start building each item as separate assets in Adobe Illustrator.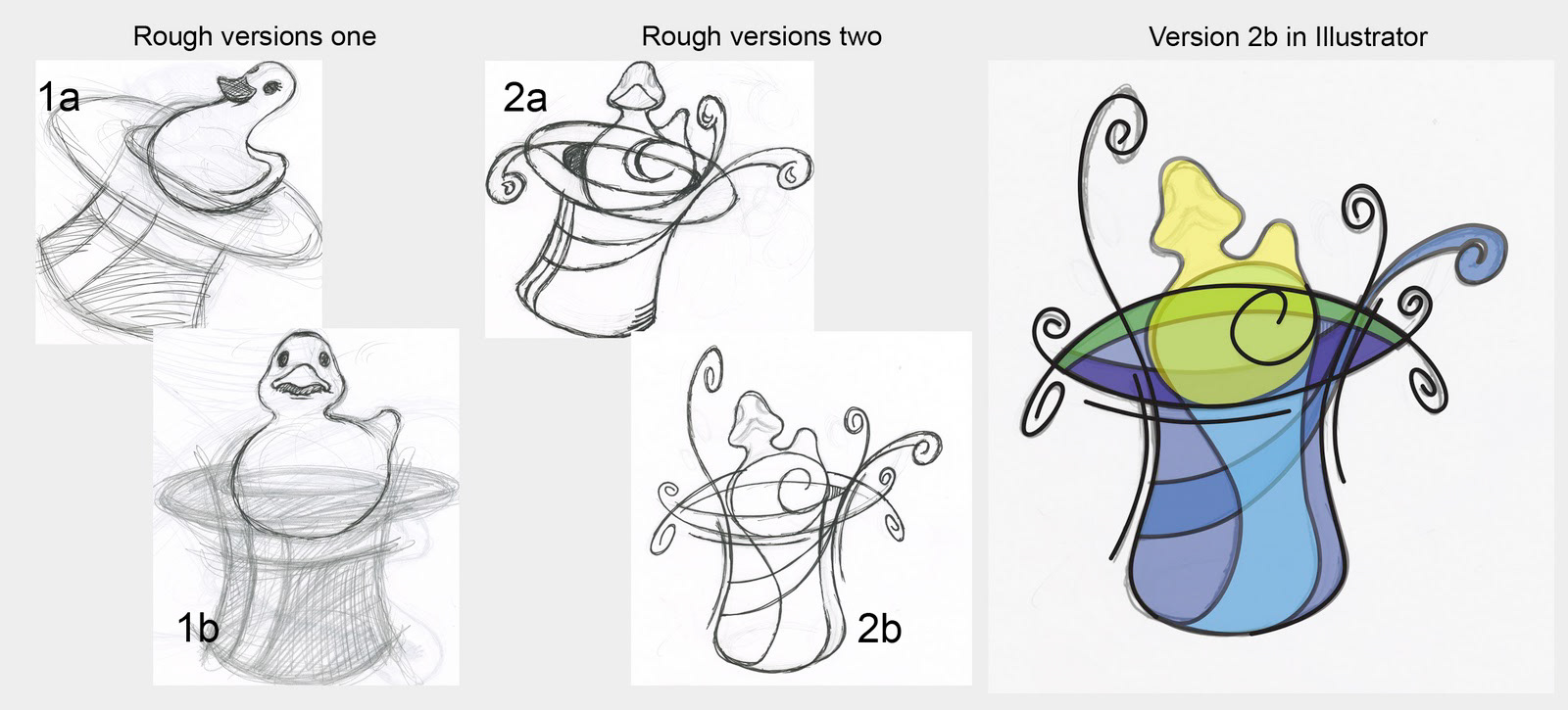 I brought all of my created assets together into a rough color composition. Colors are just suggestions in this phase and I'm still using my rough sketch as the guideline. I usually do rough sketches of most of my assets before building them in Adobe Illustrator. I love sketching because I'm able to do it anywhere and can generate far more ideas quicker than trying to create ideas on the computer. The above image is the rough comp I presented to the Renton River Days marketing committee.
The committee liked the general direction, but they did want to see a few revisions. The feedback included: They wanted to see the duck clearly and not transparent. They also requested a rounder shaped duck head with a smile. Overall, they wanted more detail on the duck.
At first I thought a more detailed duck was a bad idea. I wanted the duck to look transparent as if appearing out of thin air. Maybe I was being a bit too literal in my approach. In any case, I needed to create a duck the client would be happy with. So I went back to working on the duck and refining the colors and the layout.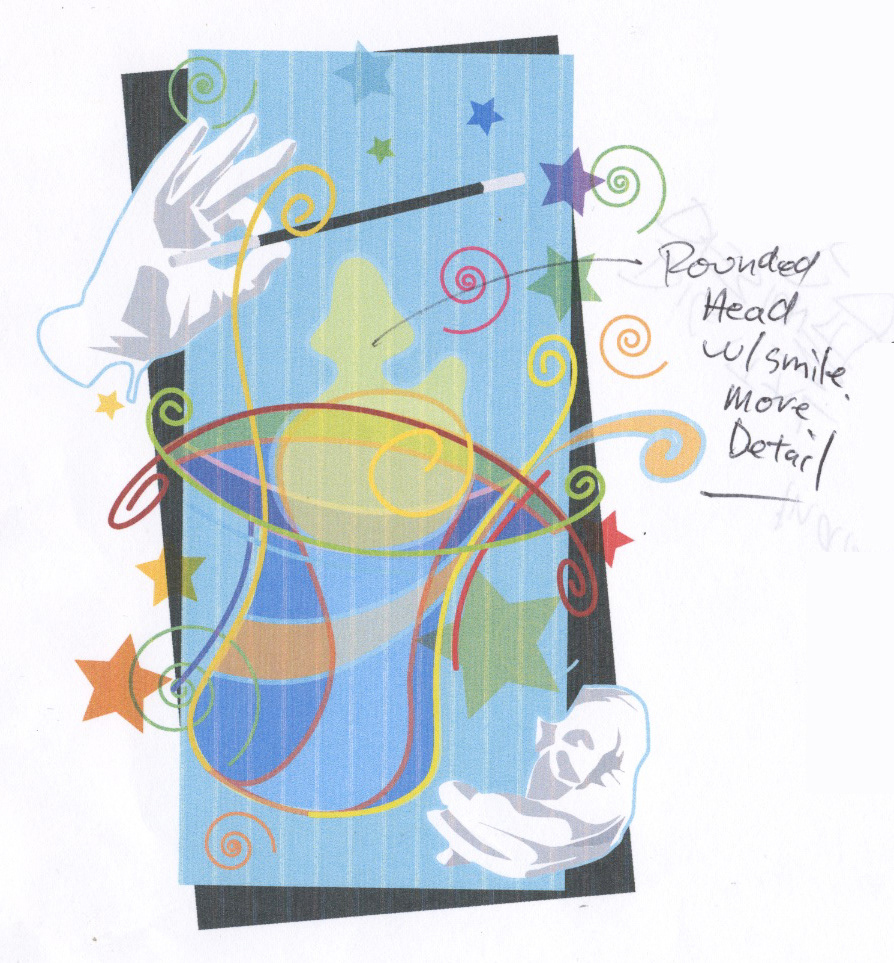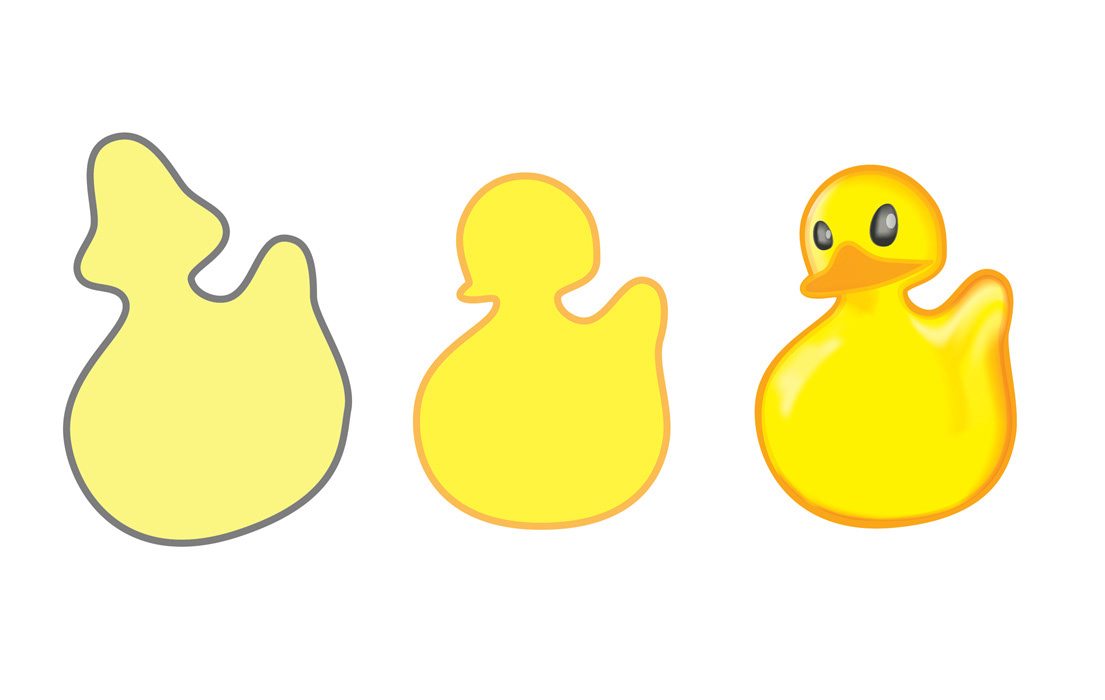 I made the revisions to the duck as requested and visually it looked much better. The more visible duck naturally led to a bolder color palette which helped the overall design. Next, I added the type elements which included dates, sponsor logos and contact information.
I also changed the stacked IKEA RENTON portion of the logo to a single line and resized other elements on the page to work better with the change. I really should have tried this before, but I thought the logo was always stacked and the size relationships were fixed.
This was a fun project. I always look forward to the creative process. It's exciting to see what might develop.